SDQYC is inviting ALL LGBTQIA+ and allied middle and high school students to join us for our San Diego Pride Summer Season 2021!!!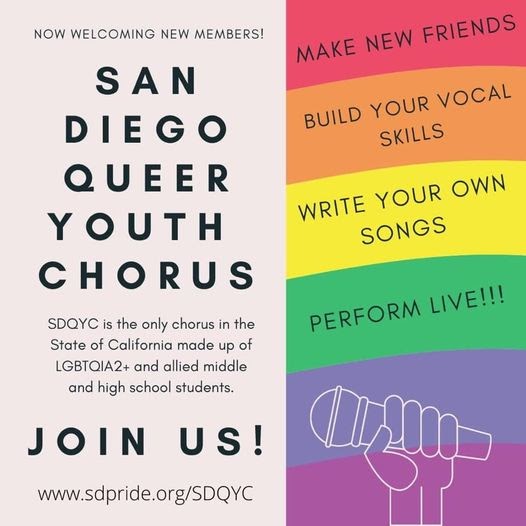 Ready to join us?
Fill out this Summer 2021 online sign-up form!
The San Diego Queer Youth Chorus (SDQYC) is taking applications for auditions to be held Sunday June 6, 2021 for the only chorus in the State of California of LGBTQIA2+ and allied middle and high school students. Performances this summer include Light Up the Cathedral on July 14, 2021.
San Diego Queer Youth Chorus encourages and fosters artistic expression, personal development, and leadership in lesbian, gay, bisexual, transgender, queer/questioning intersex and allied youth and presents musical performances that provide an opportunity and space for young people, however they identify, to say "this is a place where I am accepted for who I am and everything that I bring."
SDQYC is led by Founding Artistic Director Lindsey Deaton, who is the Founding Artistic Director of the Trans Chorus of Los Angeles and the Diverse City Youth Chorus in Cincinnati, OH. Lindsey's work with choruses has been covered and featured on NPR, MSNBC, LA Weekly, The Advocate and in the LA TIMES, 'Providing an essential voice'.
SDQYC operates under the guidance, support, and direction of a committee composed of representatives from San Diego Pride, San Diego Women's Chorus, and the SDQYC AD, Lindsey Deaton.
What kind of musical or stage experience is expected from new SDQYC performers?
New SDQYC performers should have:
Choral, show choir or musical theater experience, whether from having sung in a church, school or community group.
The ability to sight-read and/or sing back immediately what is heard.
The ability to learn text in other languages and memorize music for performances.
The ability to move rhythmically.
The desire to perform a wide variety of music and have fun.
What kind of time commitment does SDQYC membership require?
SDQYC Pride Season III begins 3:30 pm June 6, 2021 with an open rehearsal for all those interested in joining and runs to the middle of July 2021 with weekly rehearsals. Singers are expected to commit to our rehearsal and performance schedule for a minimum of one year. Attendance at rehearsals and performances is mandatory.
Where and when are SDQYC rehearsals?
SDQYC rehearsals will begin June 6, 2021 for six Sundays 4 pm to 6:30 pm, with plans to have rehearsals in 30 minute increments indoors and outdoors in accord with SD County Health Department and SDUSD guidelines. Our regular rehearsal space is at University Christian Church (Disciples of Christ) 3900 Cleveland Ave, San Diego, CA 92103
QYC meets in the Sanctuary and outdoors at UCC
SDQYC will provide new N95 masks to each singer
Following SDUSD COVID-19 school guidance checklist
When and where are SDQYC's performances?
Major SDQYC concert productions this past 2019-20 Season II included performances with Jason Mraz with TranscenDANCE, Banding Together, Malashock Dance Company, Pan Ensemble and more, for two sold-out performances at the Spreckels Theater February 15 and 16, 2020.
Fulfilling SDQYC's mission and vision, community performances are scheduled for Transgender Day of Empowerment and other LGBTQIA2+ community events. The SDQYC may also have opportunities to perform with the other two LGBTQ+ choruses in the region, the San Diego Women's Chorus and the San Diego Gay Men's Chorus. A detailed schedule of all confirmed dates for the upcoming season are provided at audition time.
What would be my financial obligations?
There are no fees to participate in the SDQYC. Members can expect to provide their own travel to and from rehearsals and performances, retreats and social events. Social events are optional and scholarships will be available for touring. Members will need to provide some concert attire; bottoms, pants and skirts, etc.
What other responsibilities and activities will I have as a member of SDQYC?
Performers are expected to fulfill SDQYC's mission, vision and core values and strive for excellence in performance. Therefore, the ability to rehearse and learn your music in a timely manner is really important. Punctuality and preparation are expected. SDQYC requires that each singer provide their own dress concert attire. For many performances, this will be a classy, elegant, all-black outfit with black shoes. Costumes will be required for the stage shows and help will be given to provide them.
As performers, you may be asked to volunteer your talents, skills, additional time or resources for organizational events and fundraisers. While participation is voluntary, it is always welcomed and greatly appreciated. Performers will have the opportunity to perform at special events. SDQYC's special appearances this past season included:
San Diego Pride 2020 Light Up the Cathedral
San Diego Pride 2020 Virtual Pride Festival
SDQYC's special appearances this coming season include:
San Diego Women's Chorus
SDQYC has Fall and Winter membership retreats and takes advantage of other outside activities for a chance to get away from our usual rehearsal space and to get to know each other better.
What can you tell me about the audition process on Sunday June 6, 2021?
The audition consists of two parts: a musical audition and an interview. The entire process takes approximately 15 minutes. During the musical audition, the Artistic Director will ask you to:
Sing scales and warm-ups to determine tonal quality and range
Repeat simple melodic patterns to ascertain tonal memory and pitch recognition
Sight-read a musical excerpt to determine your reading skill level
Perform a short a cappella piece of your choice in any style to showcase your musicality
During the interview, you may meet with a small group of singers who may ask you questions such as:
What brought you to SDQYC?
What – if any – are your expectations of the organization?
How do you feel you can contribute toward the mission and vision of SDQYC?
Have you demonstrated this ability in the past with school, community or other organizations?
Also during this process, the committee will give you a schedule for the entire season and review responsibilities of membership with you. This will be the perfect time for you to ask any questions.
Ready to perform with us?
Fill out this online form for QYC summer 2021 sign ups and schedule your audition, and the Audition Coordinator will be in touch. If you are unable to join us this season or have missed the audition dates, fill out the form and we will keep you posted on any possible openings and contact you when auditions are next available!
We can't wait to hear from you!