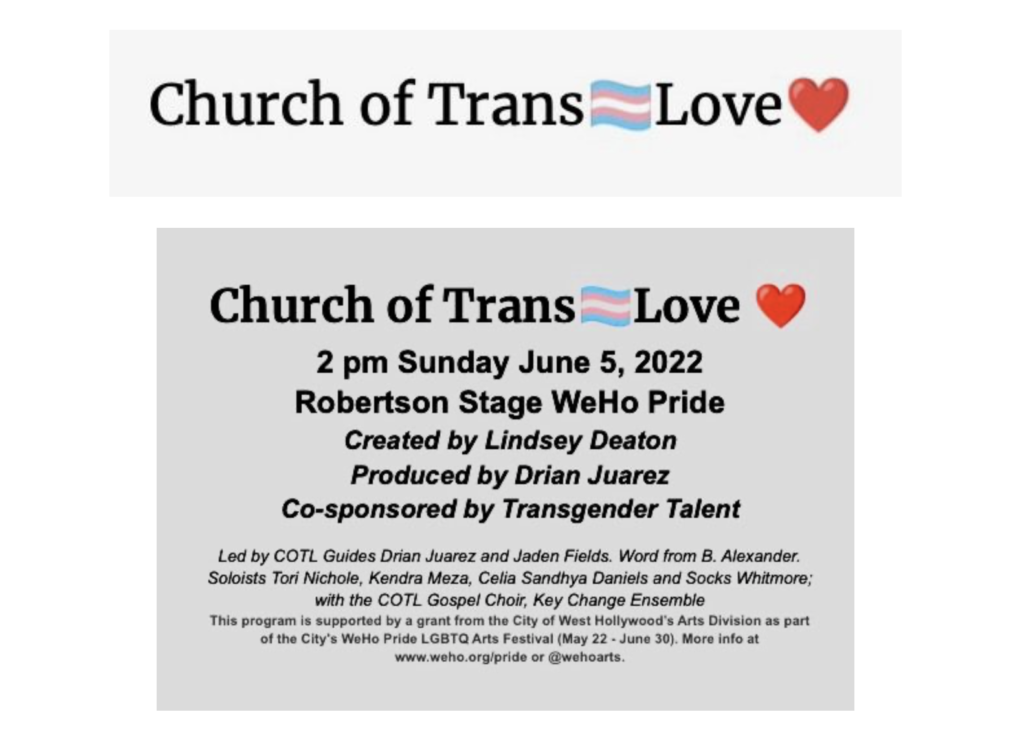 The 'Church of Trans Love' presents a fun, moving and musical trans/enby/BIPOC take on traditional worship for a special WeHo Pride 2022 performance on the Robertson Stage at 2 pm Sunday June 5, 2022.
Created by Lindsey Deaton, produced by Drian Juarez and co-sponsored by Transgender Talent; the Church of Trans Love performance includes music from David Bowie and features Key Change Ensemble, the show's gospel choir of professional trans and non-binary singers.
Queer/Tgi/BIPOC High Priestesses/Priests share poetry and prayers written by BIPOC trans artists; 'blessing' ritualistic elements close to the trans community; and joining all assembled in a show-stopping ritual of remembrance for Leslie Monroy, a trans sister who served on the Transgender Advisory Board of the City of West Hollywood for many years and passed away last year from brain cancer. The audience plays a 'full, active and conscious' role in the show.
Queer, transgender, gender non-conforming, intersex and Black, Indigenous, People of Color have long histories of trauma and abuse at the hands of members of ecclesiastical institutions; churches, temples, mosques and synagogues.
Embracing the challenge of the theme 'With Liberty, Diversity, Inclusion and Progress for All', the Church of Trans Love hopes to provide a trans-do look at the hypocrisy that exists still in these institutions and the possibilities that can surface when queer/tgi/BIPOC people take control of their communal gatherings and rituals.